Southern California Vegetarians
Current Vegetarian Events
---
This page is unlikely to be revived in the near future. Please check Vegan Engagements in late 2018. You can use VegEvents.com in the meantime.
Click on the links for details of the event or simply scroll down. Disclaimers are at the end.
SoCalVeg affiliated events.
23-Apr-2011 10PM: Vegan Potluck in Northridge cancelled. SoCalVeg Affiliated Vegan Potlucks / Picnics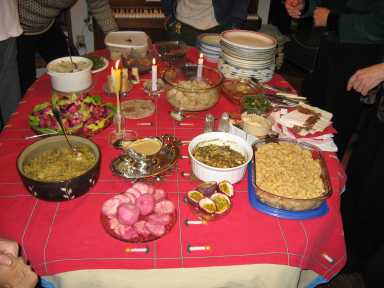 Bring a Vegan dish (No animal products: No meat, no dairy, no poultry, no honey, etc.) to share. You may prepare one or more vegan dishes or get ready-made vegan entrees, side-dishes, salads, fruit juices, desserts or other vegan food items. Please read the ingredient lists carefully. Alcoholic drinks or other items that are illegal to share with children, or could impair judgment, are restricted. Bringing your own plates and utensils may save needless plastic waste (for the environmentally conscious amongst you). Bring along literature related to various forms of activism (from other conscious groups / individuals trying to make the world a better place). The events are free and we ask that you do not buy or sell products or services at the events (though you are welcome to introduce others to your products / services). You do not have to RSVP. Just show up with or without other vegetarian / non-vegetarian friends / acquaintances/ children. Please be civil, reasonably quiet and considerate of the hosts, neighbors and attendees. When the group begins eating, you may take small portions of the various dishes on your first round. After other attendees have had a chance to sample the dishes, feel free to have more of your preferred dishes. Companion animals may or may not be welcome at any particular event, so please check with us in advance. Please ensure that you and any children or companion animals that you bring to events follow all relevant guidelines.
---
---
Disclaimers:
SoCalVeg assumes no responsibility or liability for anything resulting from listing events, or affiliating with events, or classifying events, or organizing events. Unless the hosts or organizers of any events state otherwise, the hosts and organizers of the events assume no responsibility or liability for anything resulting from hosting or organizing the events, or from failures to host or organize the events. Attendees participate at their own risk. There are some inherent risks to attending a potluck including, but not limited to, allergies and food-borne illnesses. Whilst SoCalVeg endeavours to ensure that the information provided by SoCalVeg is fairly accurate, SoCalVeg assumes no responsibility or liability for the consequences of any inaccurate or misleading information or classification.
---

Web site management - For Goodness